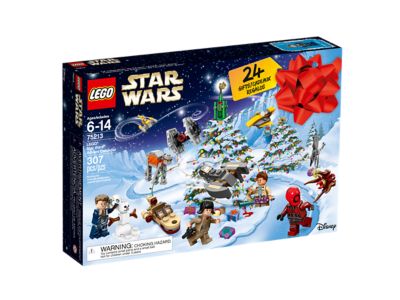 Sorry I'm late to the game on posting this but LEGO's Star Wars Advent Calendar is now available for sale.
The Star Wars Advent Calendar sets are a very popular set among most LEGO and Star Wars fans each year, collecting special exclusive figurines in these sets. Mini figures are hugely popular for a lot of LEGO collectors. Some only collect figures.
These Star Wars Advent Calendars
 tend to be more long term holds if you intend to sell compared to some of the other sets that can heat up depending on exclusiveness and availability.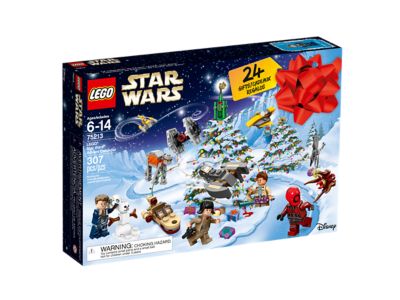 This new Advent Set comes with 307 pieces and a retail price of $39.99. As I read some are complaining that the figures in this new set are not as exclusive as some of the previous years sets with just regurgitated figures, that shouldn't stop the hardcore fans from picking up a set.
Features:
Open the doors of this galactic 75213 LEGO® Star Wars Advent Calendar each day in December to discover themed LEGO minifigures, starships, vehicles and other collectibles. When you've opened all the doors, there's even a foldout playmat with desert and ice-planet scenes for playing out epic Star Wars adventures. This great gift with 5 minifigures and 3 figures is the perfect way for fans of all ages to get ready for the holidays.
Open a door every day to reveal 24 different LEGO® Star Wars themed gifts.
LEGO® Star Wars Advent calendar features 5 minifigures and 3 figures.
Models include a landspeeder, The Arrowhead, Republic Fighter Tank, Naboo Starfighter, Twin-Pod Cloud Car, General Grievous' Starfighter, Blaster Cannon, Delta-7 Jedi Starfighter, Imperial Troop Transport, TIE Fighter, AT-ACT, Zeta Class Cargo Shuttle and an Imperial Speeder Bike.
Characters include Rose, Rowan, General Merrick, Battle Droid, Death Trooper, Rathtar, Guavian Security Soldier and an IG-88 droid.
Weapons include a blaster pistol, 3 blaster rifles, 2 blasters and a Lightsaber.
Also includes a festive-themed moisture vaporator and a snowman, plus extra ammo studs.
Collect all the gifts and play out your own desert and ice-planet adventures on the included foldout playmat.